I dreamt this SUPER simple recipe up one day at work and I have made it a million and one times since that fateful day only a couple months ago. Each time I get rave reviews of how incredibly moist, tender, and yummy it is. And it truly is incredibly simple.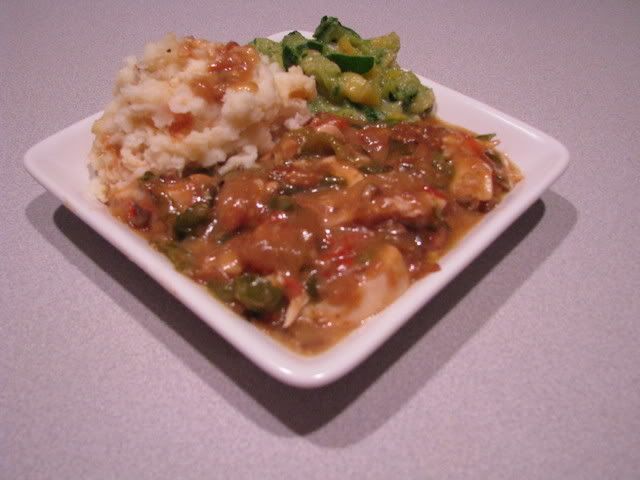 I forgot to take a picture when I took it out of the oven. Here it's pictured with steamed zucchini and squash, and garlic mozzarella creamed potatoes. It goes well with potatoes or brown rice.


3 or 4 boneless skinless chicken breasts
1 can Cream of Chicken & Mushroom soup
1 packet of dry onion soup mix
1 package of red & green bell peppers & onion (Bloom has little plastic containers of "Fajita Mix" that I use)
4 cloves of garlic; chopped

Preheat oven to 400.
Wash chicken and place in baking dish.
Sprinkle half packet of onion mix onto chicken.
Spoon soup onto chicken, coating it.
Sprinkle rest of onion mix on top.
Lightly sautee peppers, onion, and garlic, then pour over the chicken.
Bake for 45 minutes at 400.