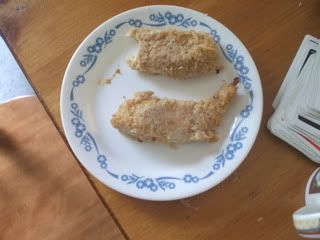 (all that was leftover!)
*courtesy Giada DeLaurentis

ingredients:
4 tablespoons plus 1/2 cup extra-virgin olive oil
1 cup buttermilk
1 1/2 pounds chicken tenders (about 18)* I used 7 large boneless/skinless chicken breasts cut in half to serve 6 people and there was a ton leftover*
1 1/4 cups freshly grated Parmesan
3/4 cup Italian-style seasoned bread crumbs

1)Preheat the oven to 500 degrees F.

2) Brush 1 tablespoon of oil over each of 2 heavy large lined baking sheets.

3) Place the buttermilk in a large bowl. Add the chicken tenders and stir to coat. Let stand at least 15 minutes and up to 30 minutes.


4) Stir the Parmesan and bread crumbs in a pie dish. Remove the chicken tenders from the buttermilk and dredge them in the bread crumb mixture to coat completely, pressing to adhere.

5) Arrange the coated chicken tenders on the prepared baking sheets, spacing evenly. Drizzle the remaining 2 tablespoons of oil over the chicken tenders and bake until they are cooked through and golden brown, about 12 minutes.

really good!